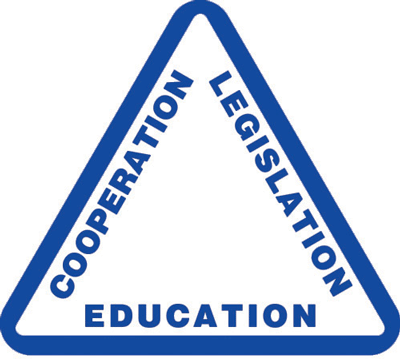 The Ohio Farmers Union works to protect and enhance the economic interests and quality of life of Ohio's family farmers, ranchers and rural communities.
The organizational framework of the National Farmers Union and the 32 allied state unions is represented in the triangle symbol to the left. At the base is our mission to educate. Education is the foundation which informs our efforts at the local, state and national levels to promote a family farmer and consumer friendly legislative agenda and foster cooperative business and community actions across Ohio and the United States.
Education
A primary mission of the Ohio Farmers Union is to teach about the importance of family farm agriculture and its potential for a sustainable, healthy economy. OFU also believes the development of leaders who understand family farming, rural communities and cooperative, local business efforts is an important part of our educational mission.
Legislation
Our efforts to learn and teach extend into the public and political sphere. OFU leadership and members maintain close contact with members of the Ohio General Assembly and Ohio's statewide elected officials. We believe that a representative democracy works best when citizens are directly engaged with their elected representatives on the issues that affect their daily lives and communities. Our lobbying efforts on Capitol Square in Columbus focus on the needs and rights of family farmers, rural communities and consumers. Since 1934 the Ohio Farmers Union has been a presence at the Ohio Statehouse standing up for economic fairness, sustainable agriculture and family farms.
Cooperation
Texas cotton farmers banding together in 1902 to get fairer prices at the local cotton gin grew into what is today the National Farmers Union. Since that time, cooperative business practices and community action have been a trademark of the organization at the state and national level. OFU supports efforts by family farmers and rural residents who work together to build stronger local economies. OFU also assists Ohio farmers in participating in programs such as the National Carbon Credit Program which rewards farmers who put carbon into the soil – taking the greenhouse gas out of the atmosphere. At the national and state levels, cooperation has also come to embrace the consumer more and more over the years.