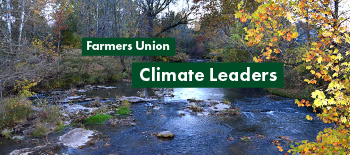 NFU Climate Leaders is a community of farmers, ranchers, educators, policy makers, journalists and concerned citizens that share common concern over the current and looming threats posed to agriculture and food security by climate change.
We're encouraging all those interested in climate change and its impacts on American agriculture to get connected by joining the NFU Climate Leaders Facebook group, signing up for the mailing list, and reading the Climate Column.
In other words, NFU's commitment to getting the good information out about the intersection of climate change and agriculture is operating on all channels. The Facebook group is self-explanatory, with the mailing list you'll get occasional updates to your email inbox and the Climate Column is a blog with all the latest.
Another great resource is the National Farmers Union Climate Leaders homepage. Here you'll find a quick explainer on the program as well as "static" resources like research reports and ideas for what to do on your own farm. You'll also find that on our own Ohio Farmers Union website – www.ohfarmersunion.org – under the "Issues" menu a direct link to the NFU Climate Leaders page at nfu.org.
One document you can get started with is the 2016 NFU Convention's Special Order of Business on climate change.
So, stay informed and stay active. There are ways to mitigate climate change in our own communities and on our own farms.