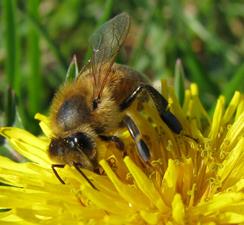 The Ohio Dept. of Natural Resources wants farmers to know that they may enroll in the Conservation Reserve Program's "Pollinator Habitat" practice which is also known as CP42.
CP42 focuses on providing nectar and pollen sources for a variety of important pollinator species, such as honeybees, hummingbirds, and butterflies. Bee-pollinated plants account for $20 billion in annual U.S. agricultural production. Pollinator numbers, however, are declining because of several factors, including habitat loss.
CP42 calls for the planting of native flowering species that will bloom throughout the spring and summer. Planting species that flower at different times provides food and habitat for pollinators, and provides flowers from April to October.
According to ODNR, incentive and rental payments and cost-share assistance may be available for acres enrolled in CP42. For information contact your local FSA office or an ODNR Division of Wildlife private lands biologist.