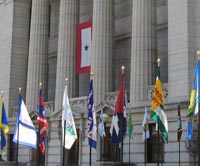 Farmland taxes (CAUV) and other state Ohio Farmers Union policy priorities will be among topics discussed with state legislators on April 12.
"We need every OFU member we can get to help us canvass the Capitol and stand up for the rights of family farmers in Ohio on April 12," said Ron Sylvester, external relations director for OFU.
"While we're in the midst of a heated – and unusal – presidential election year that seems to be bringing legislatures to a standstill, there are two important bills on Current Agricultural Use Valuation pending in the Ohio General Assembly. We need to keep the pressure on Columbus to do the right thing and return CAUV to its intended role in tax policy," Sylvester said.
Family farmers around the state have seen their farmland tax bills go up 50 to 300 percent just since the end of the last recession.
OFU members are asked to come to Columbus on April 12. They will meet as a group in the Grant Hearing Room in the Capitol Building at 9 a.m. State Sen. Cliff Hite, Senate Agriculture Committee chairman, will meet with the entire group and talk about the legislature in 2016 and take questions. Members will then split up into groups and meet with other members of the House and Senate including their own representatives, party leaders and ag committee leaders and members of the Ways and Means and Finance Committees in the House and Senate.
We are asking folks to register so we can plan meetings and groups. You can register by calling Jerry Meyer at the OFU state office in Ottawa at 800-321-3671 or by entering a few quick pieces of information in the form below and clicking "submit."