We're in unprecedented times. The novel coronavirus has shut down public life and much commerce in Ohio and the nation. Farmers, however, are essential. OFU normally holds a "Lobby Day" just prior to each spring planting where many of us from around the state descend on Capitol Square in Columbus and inform our state legislators about the issues facing farmers in Ohio.
This year is obviously different. While legislators are at home in their districts, and much of the economy is on pause, our public policy issues remain important.
You will find below a few steps you can take during this pandemic lockdown to write your state representative and state senator on one or all of several topics. These sample letters all deal with the state of Ohio-centered policy proposals adopted as Special Orders of Business at our annual convention.
Given the fact we cannot hold county or regional meetings, we hope OFU local leaders will use this resource to organize in their communities and see that the Ohio General Assembly hears from us through this letter writing campaign.
Step One – Find Your Legislators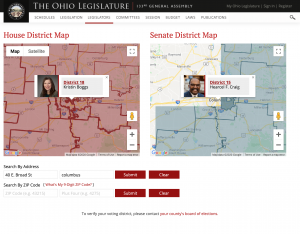 This couldn't be easier – if you're here, you're online and almost there. Simply follow this link to The Ohio Legislature's website. You will use enter your home address, click Submit, and your state representative and state senator will appear on the House and Senate district maps. Simply click the district number next to the legislator's picture to go to their personal web page and make a note of their mailing address. In the example to the right, we entered the address 40 E. Broad Street, Columbus and you can see the results.
Step Two – Choose a Topic
We know people are busy, but if you can do more than one letter, choose more topics – or better yet organize your network to get several people to each do one of the topics below.
Under each description, you'll find two icons – one will open a Word document you may download and the other a PDF document. Most people will want the Word document so that they can fill in the missing information – legislator name, etc. – and edit the letter to their liking. The pdf is not as easily edited, but is there if you just want to print something out as a guide and write your own letter.
We encourage folks to write their own letters as much as possible, but all of the statistics and information in these examples are in line with OFU policy and fact-checked.
Click either the MS Word icon or Adobe PDF icon below each issue to view or download the letter for that issue.
Issue 1: Renewable Energy
This letter deals with our Special Orders on continued or more energetic support for renewable energy projects in rural Ohio as well as a strong committment to ethanol in Ohio.
Issue 3: Foreign Ownership
The agricultural land owned by foreign interests in the U.S. if combined would be roughly the size of our entire state. Ohio is one of the many states in the U.S. that have no tracking or regulation of foreign ownership of agricultural land and infrastructure.
Issue 5: Ban Spread of Fracking Waste on Ohio's Roadways
This is pretty straightforward. The wastewater from fracking, also called brine, is liquid pollution that contains radioactive material. OFU doesn't believe it should be used to treat roads in the winter.
Issue 6: OFU's 2020 Proposals for Clean Water & Nutrient Management
For the past several years, OFU has offered its views regarding cleaning up the western basin of Lake Erie. This letter contains our policy on nutrient management in so-called hotspot watersheds as well as a proposal to set a moratorium on the numbers of livestock around impaired watersheds.
A Few Notes:
Please address our elected officials by their proper titles. For example, State Rep. John Doe or State Sen. Jane Doe.
Feel free to edit these letters or write your own. If you want to start fresh, you may read or download the 2020 OFU Special Orders of Business to do your own letters.
You'll note that these letters ask for feedback from the legislators. If you write your own, please include a line requesting they share their views or work on the issue with you – and please share any replies with OFU.
Please include information about your own farming or rural living or business experience. Legislators generally want to know about their constituents and it's a reminder to them that their decisions and priorities have real effects on Ohioans' lives.
To everyone who participates in our letter writing, Thank You!