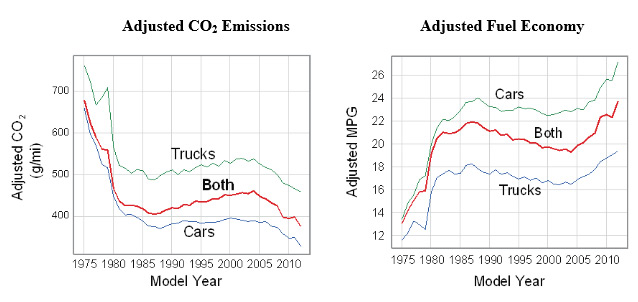 According to a recent report, EPA estimates that between 2007 and 2012 fuel economy values increased by 16 percent while carbon dioxide (CO2) emissions have decreased by 13 percent, and in 2012 alone the report indicates a significant one year increase of 1.4 miles per gallon (mpg) for cars and trucks.
The expected 1.4 mpg improvement in 2012 is based on sales estimates provided to EPA by automakers. EPA's projections show a reduction in CO2 emissions to 374 grams per mile and an increase in average fuel economy to 23.8 mpg. These numbers represent the largest annual improvements since EPA began reporting on fuel economy.
Fuel economy is expected to continue improving significantly under the Obama administration's historic National Clean Car Program standards. The program cuts greenhouse gas emissions and would double fuel economy standards by 2025. The standards will save American families $1.7 trillion dollars in fuel costs, and by 2025 will result in an average fuel savings of more than $8,000 per vehicle. The program will also save 12 billion barrels of oil, and by 2025 will reduce oil consumption by more than 2 million barrels a day – as much as half of the oil imported from OPEC every day.