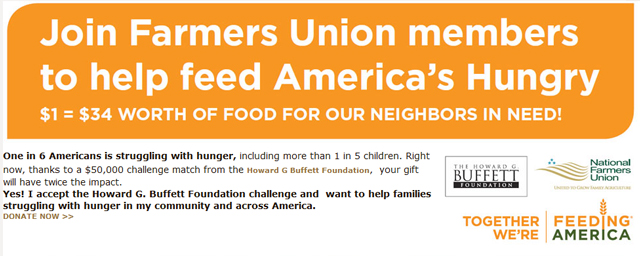 Once again the National Farmers Union is teaming up with Feeding America and the Howard G. Buffett Foundation to help fight hunger in America.
The Howard G. Buffett Foundation has pledged a $50,000 challenge grant to Farmers Union members across the U.S. This means that every dollar we raise, up to $50,000, will be matched by the foundation.
"I am asking all Ohio Farmers Union members to do their part in helping NFU raise these needed funds to help the needy," said Roger Wise, OFU president.
Just follow the link at the end of this story to donate. Your online donation will be tracked by Feeding America as a Farmers Union contribution and matched by the Buffett Foundation.
All member-driven donations go to food banks that serve hungry people in their communities. Feeding America's more than 200 member food banks serve 61,000 agencies across the United States that addresses hunger through emergency food assistance and programs.
Through Buffet's challenge, every dollar donated helps provide $17 worth of food and groceries to Americans in need. With the Buffett Foundation's matching grant, NFU members will see that number double to $34. If Farmers Union members can reach the goal set of $50,000, it will provide $1.7 million worth of food.
"Ensuring all Americans have a safe, reliable, affordable food supply is something that those of us in agriculture are very concerned about," said Johnson. "Currently, 37 million Americans are facing hunger, including 14 million children and 3 million seniors. Partnering up with Feeding America gives us an opportunity to lend our part in providing fresh food for families who need it most."