OFU President Roger Wise wants to let the foodies, slow food devotees and farmers market supporters in Columbus know that the Ohio Farmers Union is an organization that they should know about.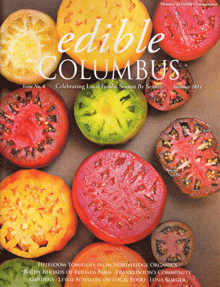 OFU is running an advertisement in the summer edition of Edible Columbus – a beautiful magazine circulated around the capital city and read by gourmands and others who enjoy eating out and dining at home when local food with a conscience is on the menu.
"From time to time we need to think about the final link in the food chain – the consumer," said Wise
"We chose to advertise with Edible Columbus because they highlight locally grown and produced food and the restaurants that use local ingredients. There are also two articles in the latest edition of the magazine that feature family farms in Ohio," he added.
Edible Columbus is part of Edible Communities Publishing a publications and information company that produces editorially rich, community-based, local-foods publications in distinct culinary regions throughout the United States and Canada.